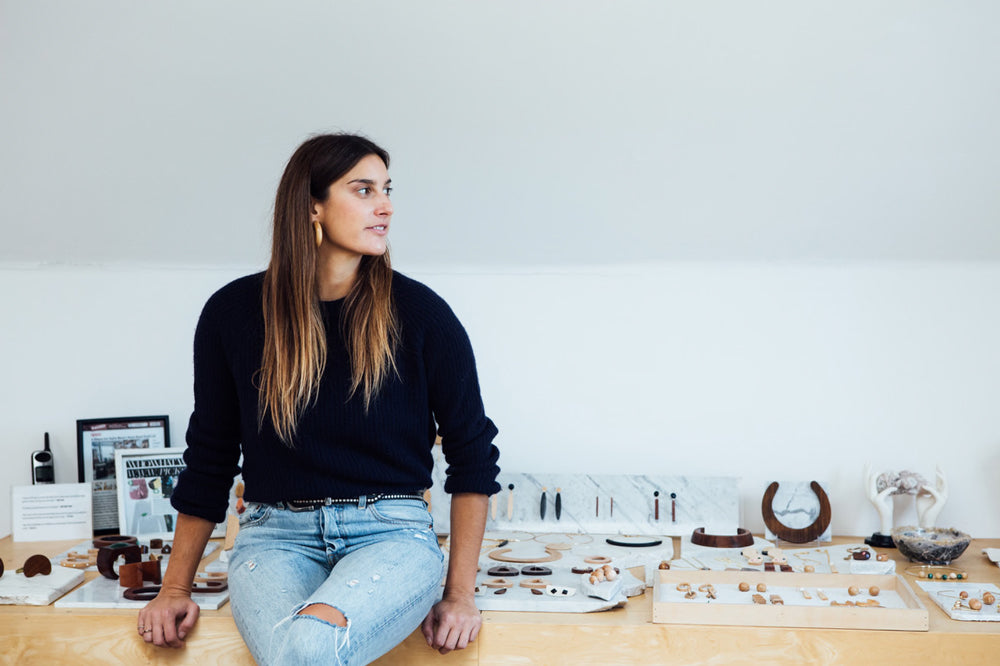 Tell us about your path to jewelry, how did you get interested in making it out of wood and when did you start?

I always loved jewelry and fashion since I was a kid. You could not drag me away from vintage stalls at flea markets. I'd scour every bin of costume jewelry looking for treasure. After studying art in college and working different jobs in fashion I decided to persue something of my own and create a line of jewelry close to home, in the woodshop I spent my childhood in. My dad is a sculptor who uses a lot of wood and metal in his work. It was a natural progression to combine my two passions of modern design and fashion to make something unique and wearable using the materials I had access to.
How would you describe your artistic practice and what inspires your aesthetic?
Many personal experiences influence my designs. I love to travel and find new forms and colors in nature. I look to paintings, sculptural objects, and furniture for a lot of my inspiration. I love geometric shapes, asymmetry, and lines. Going away someplace new and discovering things always gets me excited to come back, focus and make something new. It's like hitting the refresh button.
What does a typical day consist of in the studio, like do you listen to music, podcasts? Do you like to be alone, have people around, etc?
When my dad is here working beside me we'll listen to music. Mostly classic rock. The days I'm alone in the studio I like to work quietly so I can hear my thoughts and focus. It's very therapeutic working with my hands and just drifting away in my thoughts, forgetting about everything and being in that moment.
You were born and raised in L.A. but if you could live in any other city where would that be?
I'd love to live in Hawaii or Paris.

What people, living or deceased, inspire you?
My dad is my ultimate inspiration. I love Matisse and his cut outs, the Romans and the way they built. It's a combination of people that inspire me. Other creative people, no one in particular but people who have made art through the ages.
What do you find most challenging and most rewarding about your work? 
The most challenging is time. There is never enough time to make everything I want to make. I'll make a bracelet and before I'm done start on something else. Completion is the hardest part but also the most rewarding when I can create a finished product that can be worn with universal appeal.

Tell us three overarching beliefs or ideals you have about today's retail experience for artists.
There is a lot of competition out there and quality is paramount. Aside from creating you have to have a sense for business. It's important to learn the advantage of how to present your work and the importance of the small details that go a long way. 

If you had one quote to live by…
Creativity takes courage.